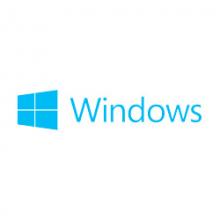 Windows Pro OS – Get Genuine
الوصف
The Microsoft Get Genuine Windows Agreement for Small and Medium Organizations offers full Windows operating systems, not upgrades, to nonprofits and public libraries who find themselves out of compliance with software licensing because of software piracy or other licensing issues.

This donation provides a full Windows Pro operating system license through the Get Genuine program to organizations that meet the eligibility criteria below. You should request one license for each computer on which you will install it.
Which Versions of This Software Are Available?
You can choose to download the current version or the previous version of this software. You can find out which version is the current one on the Current Versions of Microsoft Products page. In addition, you can download the software in any language that's available.
Eligibility
This donation is available only to correct scenarios in which an organization has an existing PC with one of the following operating systems installed on it.
Counterfeit, pirated, or otherwise illegal, unlicensed, or improperly licensed Windows operating system
The Home edition of Windows 10
The Standard edition of Windows 8 or 8.1
Home Premium, Home Basic, or Starter editions of Windows 7 or Windows Vista
Home or Starter editions of Windows XP
Linux, FreeDOS, or other operating system
Benefits for Organizations
You should consider requesting this product if you need to install the latest Windows operating system on a PC that falls under one of the licensing scenarios described above.

You can use Windows Pro to
Protect computers from viruses and other malware with Windows Defender
Support a touch-screen interface when working with individuals who cannot use a traditional mouse and keyboard
Restore malfunctioning computers to the base installation with Reset and Refresh functions
More easily switch between and access additional display languages in a multilingual environment
Special Rules for Get Genuine Product Requests
Eligible organizations may place only one request ever for Get Genuine products.
Requests for Get Genuine products may not contain any other products.
During check-out, the Get Genuine Windows Agreement for Small and Medium Organizations must be accepted on behalf of the organization.
Note: Since Get Genuine products are part of the Windows Desktop Operating Systems title group, an organization's request for them will reduce the number of operating system upgrade products it may request in its current two-year donation cycle.

Software Assurance Not Included
Get Genuine products do not include the Software Assurance benefits that come with most other Microsoft software donations. If an organization installs a Get Genuine product, that product will not have the benefit of receiving a free upgrade to a newer version of Windows when it is released in the future. However, the Get Genuine product will provide a computer with a legal base operating system upon which Windows upgrade products that include Software Assurance benefits offered through TechSoup can be installed. Additionally, organizations that request Get Genuine products will be able to downgrade their donation to earlier Windows OS versions at no cost through the Microsoft Volume Licensing Service Center (VLSC).
Choose Carefully
The administrative fee for this product is not refundable, and the product cannot be exchanged.
Obtaining This Product
Installing this product requires you to download the software from the Microsoft Volume Licensing Service Center (VLSC) and enter a license key. You can download any available version or language for your product.

The license key allows you to install the product on as many computers as you have received licenses for. This quantity is specified in the email you receive from TechSoup after you request this product.

Expect two emails:
When your donation request has been approved, TechSoup will send a message to your organization email address. This email will confirm the number of licenses you have requested and provide information about how to use the VLSC once Microsoft accepts your license agreement. Make sure the organization email that is registered with TechSoup is up-to-date. Visit My Member Profile and verify the address in your active organization profile.
Microsoft will send an email welcoming your organization to the VLSC. This email will indicate that Microsoft has accepted your license agreement. After you receive this email, you'll be able to follow the steps in the first email you received from TechSoup to obtain your donation through the VLSC
متطلبات النظام
1-GHz (or higher) 32-bit (x86) or 64-bit processor
1 GB or more RAM for 32-bit; 2 GB or more for 64-bit
16 GB available hard-disk space for 32-bit; 20 GB for 64-bit
800x600-pixel (or higher) display
DirectX 9 graphics device with Windows Display Driver Model (WDDM) 1.0 or later driver
Product functionality and appearance might vary with system configuration.
خصائص
כללים מיוחדים עבור בקשות לרישיון MS Get Genuine:
ארגונים זכאים רשאים להגיש בקשה אחת בלבד בחיי העמותה לקבלת רישיונות אלה (עד 50 רישיונות בהזמנה אחת בלבד. לא ניתן לפצל למספר הזמנות).
בהזמנת מוצר זה לא ניתן להוסיף מוצרים אחרים לעגלת הקניות.
במהלך הצ'ק-אאוט, יש לאשר את הסכם MS Get Genuine הנועד לארגונים קטנים ובינוניים.
הערה: מכיוון שמוצרי Get Genuine הם חלק מקבוצת הכותרות של מערכות ההפעלה השולחניות של Windows, בקשתם ע"י הארגון תפחית את מספר מוצרי שדרוג מערכות ההפעלה שהוא עשוי לבקש במחזור התרומה הנוכחי שלו (מחזור בן שנתיים).
אבטחת תוכנה לא כלולה- Software Assurance not Included
רישיון זה אינו כולל את היתרונות של Software Assurance המגיעים עם מרבית תרומות התוכנה האחרות של מיקרוסופט. אם ארגון מתקין מוצר Get Genuine, למוצר זה לא יהיה יתרון בקבלת שדרוג חינם לגרסה חדשה יותר של Windows כאשר הוא ישוחרר בעתיד. עם זאת, המוצר Get Genuine יספק מחשב עם מערכת הפעלה בסיסית חוקית עליה ניתן להתקין מוצרי שדרוג של Windows הכוללים הטבות Software Assurance המוצעות באמצעות TechSoup. בנוסף, ארגונים המבקשים רישיון זה יוכלו להוריד את תרומתם לגרסאות קודמות של מערכת ההפעלה של Windows ללא עלות באמצעות מרכז השירות לרישוי נפח של מיקרוסופט (VLSC).
התקנת Windows
Windows Pro דורש משאבי מערכת משמעותיים, כמפורט בדרישות המערכת. לקבלת עזרה בהערכת השאלה אהם אתה צריך לשדרג את המחשב שלך לפני התקנת Windows, ראה את השאלה האם עליך לשדרג ל- Windows 8 של TechSoup? שאלות שיש לקחת בחשבון.
TechSoup ממליצה על "התקנה נקייה" של מערכת ההפעלה Windows.
מידע חשוב בנוגע ל-VLSC של מייקרוסופט
עם Windows, הארגון שלך יכול לבחור בין שני סוגים של מפתחות רישיון להפעלת מוצר: מפתח רישיון שירות (KMS) או מפתח הפעלה מרובה (MAK). מפתח ניהול שירות (KMS) עבור Windows זמין לארגון שלך כברירת מחדל באתר VLSC של מיקרוסופט; כלומר, זה סוג המפתח היחיד שתראה אלא אם תבקש MAK.
על מנת להפעילו, מפתח KMS דורש לפחות 25 מחשבים ברשת. אם בארגון שלך יש פחות מ -25 מחשבים, עליך לבקש MAK מאתר הרישוי של מייקרוסופט (VLSC) לאחר קבלת מוצר זה.
בחר בזהירות
דמי הניהול עבור מוצר זה אינם ניתנים להחזר, ולא ניתן להחליף את המוצר.
השגת מוצר זה
התקנת מוצר זה מחייבת אותך להוריד את התוכנה ממרכז השירות של מיקרוסופט (VLSC) ולהזין מפתח רישיון. אתה יכול להוריד כל גרסה או שפה זמינה עבור המוצר שלך.
מפתח הרישיון מאפשר לך להתקין את המוצר בכמה מחשבים שקיבלת עבורם רישיונות. כמות זו מוגדרת בדוא"ל שתקבל מ- TechSoup לאחר שתבקש מוצר זה.
צפו לשני אימיילים:
כאשר בקשת התרומה שלך אושרה, TechSoup ישלח הודעה לכתובת הדוא"ל של הארגון שלך. דוא"ל זה יאשר את מספר הרישיונות שביקשת ויספק מידע על אופן השימוש ב- VLSC ברגע שמיקרוסופט תקבל את הסכם הרישיון שלך. ודא שכתובת הדוא"ל בפרטי הארגון שלך מעודכנת על ידי ביקור בחשבונך.
מיקרוסופט תשלח דוא"ל המסביר את הארגון שלך ל- VLSC. דוא"ל זה יציין כי מיקרוסופט קיבלה את הסכם הרישיון שלך. לאחר שתקבל דוא"ל זה, תוכל לבצע את השלבים בהודעת הדוא"ל הראשונה שקיבלת מ- TechSoup כדי להשיג את התרומה שלך באמצעות VLSC.
الحصول على هذا المنتج
Atención! Las licencias "Get Genuine" solo se pueden solicitar una vez. Podrás hacer un pedido de 1 hasta 50 licencias pero solo una vez en la vida de la organización en TechSoup. 
Recomendamos solicitar las licencias en previsión de necesidades futuras. Si tienes dudas por favor contactanos en info@techsoup.es
La obtención de este producto
La instalación de este producto requiere que usted descargar el software desde el Microsoft Volume Licensing Service Centre (VLSC) e introduzca una clave de licencia. Usted puede descargar cualquier versión o idioma disponible para su producto.
La clave de licencia le permite instalar el producto en tantos equipos como usted ha recibido licencias para. Esta cantidad se especifica en el correo electrónico que reciba de Tecnología de confianza después de solicitar este producto.
Esperar dos correos electrónicos:
Cuando su solicitud de donación haya sido aprobada, TechSoup Spain le enviará un mensaje a su e-mail. Este correo electrónico confirmará el número de licencias que ha solicitado y proporcionará información sobre cómo utilizar el VLSC una vez que Microsoft acepta el contrato de licencia. Asegúrese de que el correo electrónico organización que refleje su ficha en TechSoup Spain está actualizado. Visita Mi Cuenta y verifique la dirección.

Microsoft le enviará un correo electrónico de bienvenida a su organización a la VLSC. Este correo electrónico indica que Microsoft ha aceptado el contrato de licencia. Después de recibir este correo electrónico, usted será capaz de seguir los pasos en el primer correo electrónico que recibió de TechSoup Spain para obtener su donación a través del VLSC.
Atención! Si ha solicitado un producto de Microsoft:
* Este donante puede tomar hasta 14 días para generar las licencias.
* Microsoft notificará mediante un email cuando las licencias estén listas para su descarga desde el portal VLSC.
* Si es su primer pedido de Microsoft, deberá crear una cuenta en el VLSC. Deberá esperar a que las licencias estén generadas para crear la cuenta.
* Si ya hizo algún pedido a Microsoft, pero no recuerda su usuario o contraseña, contacte con el VLSC para recuperar su cuenta:
Teléfono: 900 994910 (gratuito / 09:00 - 18:00 de lunes a viernes, hora peninsular)